Special Events
On the afternoon of March 6, 2018, forty Guild members and their guests arrived by car and the HBU bus to explore the buildings and grounds of the Lanier Stone Chapel and the Theological Library for the Guild's 2018 Special Event.  A previously unknown resource to many, the Library and its tranquil surroundings on the private property of Mark and Becky Lanier, offer a quiet sanctuary for research, learning, reflection, and prayer.  The Lanier's staff graciously offer free tours of the Chapel and Library.  The Theological Library is a free, non-lending facility offered to the community during the week.
Our tour began as Jennie Enright, assistant to the director of the Library, described the construction and elaborate ceiling illustrations of the 6th Century replica Byzantine Stone Chapel. Afterwards, we enjoyed a self-guided tour of the Library's extensive holdings of Christian books and ancient artifacts. The afternoon was capped by wonderful reflection and conversation as we shared an English Tea with sandwiches, scones, tarts, and tea in the Dining Hall of the Library's English Village.
Many thanks to Special Event Co-Chairs Kathleen Evans and Nancy Penney, and volunteers, Deany Meinke and Cookie Peeler, for introducing The Guild to this unique Houston treasure!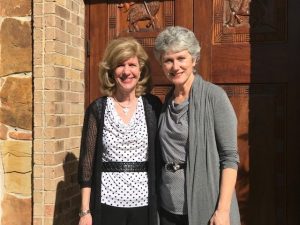 Click to enjoy Photos from the Special Event Lunch