HBU Choral Ensembles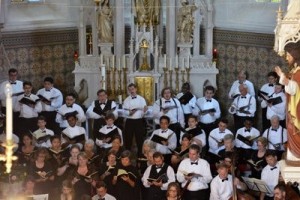 Under the direction of Dr. John Yarrington, the choral ensembles at HBU have come to be known throughout the Houston community for their fine artistry and performance of diverse repertoire. Students participating in the choral department often receive opportunities to solo, conduct, and tour with the various ensembles. Notable guest clinicians and lecturers such as Alice Parker, Morten Lauridsen and J.A.C. Redford have recently visited the campus. In the August of 2015, Schola Cantorum was the featured choir at the Classical Music Festival in Eisenstadt, Austria. Included among the many works recently performed by the HBU choirs are Duruflé's Requeim (1998), Carter's Musick's Jubilee (1999), Schubert's Mass in G (2001), Lauridsen's Lux Aeterna (2002), and Haydn's Mass in Time of War (2003).
University Singers
University Singers is an auditioned large chorus that is consistently praised for its mastery of repertory. Many concerts feature works from across centuries – works such as those by Palestrina and Purcell, Bach and Britten, Gesualdo and Brahms. University Singers recently took a multi-state tour across Texas, Oklahoma, Arkansas, and Mississippi where they performed at local high schools, churches, and at a state university.
Schola Cantorum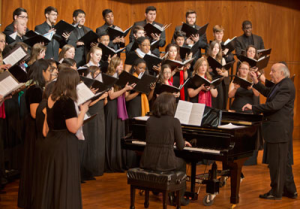 Schola Cantorum is a small auditioned choir that specializes in singing difficult works written for chamber choirs and small ensembles. Audition requirements for Schola are more strict than those for University Singers; those wishing to sing with Schola Cantorum should have a high level of expertise in sight-singing and should demonstrate the highest levels of commitment and musical artistry. Schola Cantorum is often called upon to perform for high-profile University events and occasions in addition to their combined and independent concert ventures.