A.O. Collins Lectures
Featured Guest: John J. Collins (Yale Divinity School)
Thursday, October 13 7:30pm; Belin Chapel
Title: Outside the Canon. The Literature of Second Temple Judaism, and Why It Matters: The Apocalyptic Genre

The School of Christian Thought is pleased to announce that John J. Collins will deliver the A. O. Collins lectures for fall 2016.

A native of Ireland, Professor Collins is the Holmes Professor of Old Testament Criticism and Interpretation at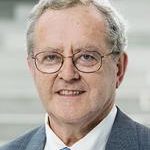 Yale Divinity School. He previously taught at the University of Chicago and the University of Notre Dame. He has published widely on the subjects of apocalypticism, wisdom, Hellenistic Judaism, and the Dead Sea Scrolls. Including among his many books are the commentary on Daniel in the Hermeneia series; The Scepter and the Star: The Messiahs of the Dead Sea Scrolls and Other Ancient Literature; Apocalypticism in the Dead Sea Scrolls; Jewish Wisdom in the Hellenistic Age; The Apocalyptic Imagination; Between Athens and Jerusalem: Jewish Identity in the Hellenistic Diaspora; Introduction to the Hebrew Bible with CD-ROM; He holds an honorary D.Litt. from University College Dublin, and an honorary Th. D. from the University of Zurich.
Please join us for this lecture.
It is an important event for our campus and community.  Should you have questions, please contact the chair of the Department of Theology, Dr. Jason Maston.
See also our upcoming lectures at our Annual Theology Conference: hbu.edu/TheologyConference.
---
About the A. O. Collins Lectures
The A. O. Collins lectures began in 1993 with the goal of bringing recognized scholars to address the university community in current trends in theology, religious studies and philosophy.  The series is named for Dr. A. O. Collins who chaired HBU's Department of Christianity and Philosophy until his retirement in 1990. Over the last two decades, due to the generosity of former students and friends of the university, top scholars from around the world have lectured on our campus on a wide range of topics on religion and philosophy.
Some of our past lecturers have included:
Dr. James H. Charlesworth, Princeton Theological Seminary
Dr. Walter Brueggemann, Columbia Theological Seminary
Dr. Charles Talbert, Baylor University
Dr. Ellen T. Charry, Princeton Theological Seminary
Dr. Luke Timothy Johnson, Emory University
Dr. Alan Segal, Barnard College, Columbia University
Dr. Samuel Proctor, Duke University
Dr. John Howard Yoder, University of Notre Dame
Dr. James W. McClendon, Jr., Fuller Theological Seminary
Dr. Michael J. Gorman, St. Mary's Seminary
Dr. Larry Hurtado, University of Edinburgh
Dr. Emanuel Tov, Hebrew University
Dr. Craig Evans, Acadia Divinity College
Dr. Richard Bauckham, St. Andrews University
Mark Lanier, Lanier Theological Library