A.O. Collins Lectures
Featured Guest: Dale Allison (Princeton Theological Seminary)

Title: The Bible in an Age of Screens
Thursday, October 12 7:00pm, Belin Chapel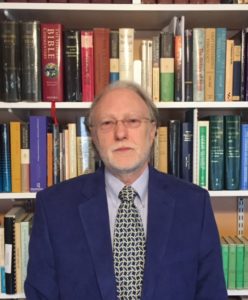 Dale C. Allison Jr. is Princeton Theological Seminary's Richard J. Dearborn Professor of New Testament. He obtained his MA and his PhD from Duke University. His academic research has focused on the historical Jesus, the Gospel of Matthew, the Sayings Gospel (Q), early Jewish and Christian eschatology, inner-biblical exegesis, the history of the interpretation and application of biblical texts, and the Jewish Pseudepigrapha. His book, Constructing Jesus, was selected as "Best Book Relating to the New Testament" for 2009–2010 by the Biblical Archaeology Society. He served for several years as the main New Testament editor for de Gruyter's international Encyclopedia of the Bible and Its Reception and has been on the editorial boards of New Testament Studies, Journal for the Study of the Historical Jesus, Journal for the Study of the New Testament, Horizons in Biblical Theology, Journal of Biblical Literature, and Review of Biblical Literature. On a more popular level, he has written books on the Sermon on the Mount, George Harrison, religious experience in the modern world, and death and what might lie beyond. He is currently working on a commentary of 4 Baruch and plans on writing one more big book on Jesus. He is an ordained elder in the PCUSA.
---
About the A. O. Collins Lectures
The A. O. Collins lectures began in 1993 with the goal of bringing recognized scholars to address the university community in current trends in theology, religious studies and philosophy.  The series is named for Dr. A. O. Collins who chaired HBU's Department of Christianity and Philosophy until his retirement in 1990. Over the last two decades, due to the generosity of former students and friends of the university, top scholars from around the world have lectured on our campus on a wide range of topics on religion and philosophy.
Some of our past lecturers have included:
Dr. James H. Charlesworth, Princeton Theological Seminary
Dr. Walter Brueggemann, Columbia Theological Seminary
Dr. Charles Talbert, Baylor University
Dr. Ellen T. Charry, Princeton Theological Seminary
Dr. Luke Timothy Johnson, Emory University
Dr. Alan Segal, Barnard College, Columbia University
Dr. Samuel Proctor, Duke University
Dr. John Howard Yoder, University of Notre Dame
Dr. James W. McClendon, Jr., Fuller Theological Seminary
Dr. Michael J. Gorman, St. Mary's Seminary
Dr. Larry Hurtado, University of Edinburgh
Dr. Emanuel Tov, Hebrew University
Dr. Craig Evans, Acadia Divinity College
Dr. Richard Bauckham, St. Andrews University
Mark Lanier, Lanier Theological Library
Dr. John J. Collins, Yale Divinity School