Dunham Bible Museum

The Dunham Bible Museum, with its extensive collection of rare Bibles, is dedicated to telling the story of the most important book in the world. On public display are:
ancient manuscripts
decoratively illuminated medieval Scriptures
examples of the earliest printed Bibles
the earliest Bibles in English
the earliest Bibles printed in America
Bible translations from across the centuries and around the world.
The Museum's creative exhibits awaken and enhance an appreciation of the history, preservation, and influence of the one Book most influential in individual lives and in the culture of civilizations.
The Dunham Bible Museum is privileged to be a Refo500 Partner, commemorating the 500 year legacy of the Reformation.
SPECIAL EXHIBITS and UPCOMING EVENTS
at the Dunham Bible Museum: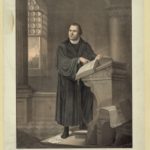 God's Word Endures Forever: Luther and the 500th Anniversary of the Reformation – a special exhibit on Martin Luther and the Bible for the 500th anniversary of the Reformation, February 1 – December 16, 2017.
"Luther and the Bible: the 500th Anniversary of the Reformation," Lecture by  Dr. Paul Maier, Professor Emeritus of Western Michigan University and a leading Lutheran scholar, October 31, 2017, 6:30-9:00, Belin Chapel