Welcome!
Please welcome our newest associate into the McNair Center for Entrepreneurship and Free Enterprise:
Academic Director and Assistant Professor in Entrepreneurship,
Jeff Frey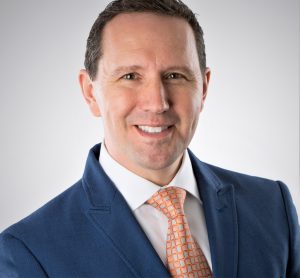 Jeff Frey serves as the founding academic director of the McNair Center for Entrepreneurship and Free Enterprise at Houston Baptist University, as well as assistant professor of Entrepreneurship for the HBU Archie W. Dunham College of Business.
Frey's background includes leadership roles in innovation, application development, emerging technology and digital user experience for organizations including McDermott International, Rice University, and MD Anderson Cancer Center. Known for both his conceptual considerations and his pragmatic applications, he is as comfortable conducting research as he is implementing business solutions. His work has driven new ventures in sectors including healthcare, finance, nonprofit, education, energy, and science. As an entrepreneur in his own right, Frey has launched successful companies and is currently involved in the health startup, Wellevations. He shares his expertise as a consultant through FurtherFaster, and as a mentor, coach and judge in numerous pitch and business plan competitions. He's served as a presenter and keynote speaker at academic and professional conferences as well.
Frey earned undergraduate and graduate degrees in Computer Science from Kent State University before completing a Master of Business Administration from Rice University. He is completing a Doctor of Philosophy from Case Western Reserve University.
At HBU, Frey focuses upon developing creative, inventive and bold leaders who will problem-solve from an entrepreneurial perspective. He values equipping students with the skills they need for effective business creation and development within a free-market system while embracing the importance of a strong ethical foundation.
Frey said, "This role with HBU is the culmination of many of my driving principles: innovation, entrepreneurship, research, faith and assisting others. The HBU mission and the McNair Center vision have combined to create a very unique and experiential entrepreneurship program that I am excited to lead."
A husband to Stephanie and father of two boys, Wesley and Colton, Frey serves as a worship leader in his church and is a running coach and triathlete.
The McNair Center For Entrepreneurship and
Free Enterprise
at Houston Baptist University
"Igniting Your Vision With Purpose"
The goal of the McNair Center for Entrepreneurship and Free Enterprise at Houston Baptist University is to educate capable people in the foundations of entrepreneurial leadership and free enterprise – including teaching and modeling the principles of individual responsibility, limited government, and principled entrepreneurship.
The McNair Center provides students with the tools and experience they need through academics, cases studies, mentorships, competitions, and real-world experiences so they will be prepared to launch new and innovative businesses in their chosen areas of interest.
In August 2016, Houston Baptist University established the McNair Center for Entrepreneurship and Free Enterprise on its Houston, TX campus. Joining as one of the national members of The McNair Centers for Entrepreneurship and Free Enterprise to become a leading university focused on the advocacy and expansion of free market economics, and the creation and cultivation of entrepreneurs.
The McNair Center was made possible by a generous gift from Robert and Janice McNair who are living examples of how entrepreneurship and the free enterprise system generates jobs, changes lives and literally charts a new course for individuals, families and entire communities. The McNair Center is dedicated to carrying out McNair's vision for awakening a new generation of entrepreneurs while defending the moral and ethical underpinnings of the American competitive free enterprise system.
Robert C. "Bob" McNair is an iconic American entrepreneur and philanthropist. He is perhaps best known as the founder, chairman and CEO of the Houston Texans NFL team; also serving as chairman of The McNair Group, headquartered in Houston, Texas, where he oversees an investment portfolio that includes interests in two cogeneration plants in the eastern United States. Among the McNair Group holdings are Palmetto Partners, Ltd. and RCM Financial Services, L.P, private investment entities that manage the McNairs' private and public equity investments. McNair also chairs The Robert and Janice McNair Foundation, the Robert and Janice McNair Educational Foundation in Forest City, N.C., and the Houston Texans Foundation in Houston, Texas.
"Our young people these days need to understand what the economic world is all about, and they need to understand what are the systems that have failed, and the free enterprise system has been the bulwark of prosperity. We need to give young people an opportunity to succeed, and a depth of understanding that will enable them to have greater vision and to raise their own horizons." – Robert C. "Bob" McNair
HBU's McNair Center Micro Seed Fund is a strategic, financial resource for students and alumni of Houston Baptist University that is meant to kickstart the development of their business idea, planning, and success. There are specific criteria for selection and award, supported by the McNair Entrepreneurship Development Board.