Alumni Endowed Legacy Scholarship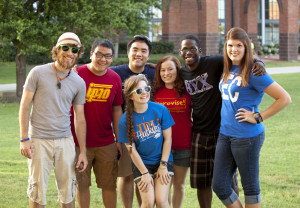 The HBU Alumni Association currently has five endowed scholarships. Scholarships are awarded each year to incoming freshman who meets all requirements and qualifications. The Alumni Board of Directors selects these recipients and are excited to support these individuals who will be carrying on the family tradition of attending Houston Baptist University.
Scholarships within the Alumni Endowed Scholarship Program:
---
Dr. Gene Wofford Endowed Scholarship
Daniel Dipasupil
Alexy Karam
Dr. James S. Taylor Endowed Scholarship
Alyssa de los Santos
Hannah Townsend
Margaret S. Hudson Endowed Scholarship
Cody Ward
Wanda E. Hudson Endowed Scholarship
Hannah Blankenship
Jane Jester '68 and Stephen Andrew Marmion Endowed Scholarship
Wanda E. Hudson Endowed Scholarship
Julia Mathew
The recipient must be an entering freshman who is a relative of an alumnus of Houston Baptist University, with the intent to pursue an undergraduate degree.
The recipient must be admitted to Houston Baptist University by Friday, March 30, 2018.
The recipient must maintain a GPA of 2.5 to be eligible for the Alumni Endowed Scholarship.
The recipient must have full-time enrollment of 12 hours or more per semester (September-May) for four successive school years as well as successful completion of each and every course for credit each semester.
Recipients will be required to attend certain functions during the year as specified by the Office of Alumni Relations, in conjunction with the Alumni Board of Directors. This includes but is not limited to the Spirit of HBU Dinner, Endowed Scholarship Receptions, Quarterly Alumni Board of Directors' meetings, Student Alumni Association meetings, and select events throughout the year.
Recipients are required to sign a media release, allowing Houston Baptist University to use a photo and personal information such as name, hometown and major in print and / or online.