HVA Officers
President: Chris Maust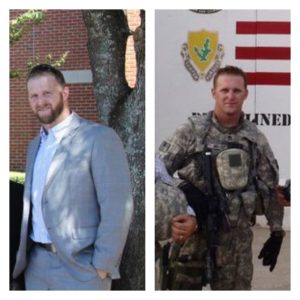 Born and raised in Texas, I always knew that if my country ever called upon me that I would be ready and honored to serve. That calling came on September 11, 2001. The following day I was at the recruiting station and joined the U.S. Army. I was a 19D, Cavalry Scout, and deployed three times to Iraq (OIF II, OIF 06-08, & OND). I thoroughly enjoyed my tour of duty and intended to retire from the military but was Medically Retired in April of 2013 due to injuries sustained in combat service. Upon exiting the military, I began using my Post 9-11 GI Bill and attending Houston Community College and eventually transferred into Houston Baptist University. I am committed to engaging every student veteran at HBU and ensuring they have all of their needs met and their desires addressed. Myself and the other officers are working tirelessly to ensure that veterans are proud to be associated with the Husky Veterans Association. Most important of all I am married to my beautiful wife Jessica and we have three boys: Dylan (11), Gabriel (4) and CJ (2).
Treasurer/Founder: Gino Manguino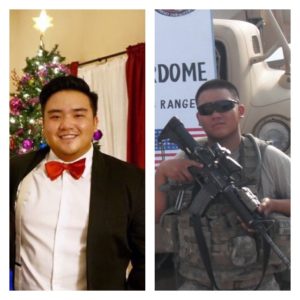 Born and raised in Houston, Texas, I've always had an interest in the military. It wasn't until my junior year in high school that I felt the call to serve my country. I graduated high school in 2009, two weeks after that I was in Basic Training, and a month after completing boot camp I found myself deployed to the Kunar province, and Wardak province of Afghanistan under Operation Enduring Freedom X (10). During my time in the Army I served in various positions as an 11B, Infantryman, to include M240B Gunner, Ammo Bearer, Gun Team Leader, Rifleman, and Alpha Team Leader, and had the honor of serving in the 173rd Airborne Brigade, and the 4th Brigade, 10th Mountain Division. After serving 4 years in the Army I decided it was time to go to college. In fear that I would miss my service, I enlisted in the Texas National Guard, where I served 3 more years. I started my college journey at Houston Community College, and found myself transferring to Houston Baptist University my sophomore year. It was until Veterans Day 2015 that I felt the calling to help veterans in any way possible. With the help of the Houston Baptist University staff, and fellow student veterans, we were able to gain a strong social foothold on campus, and create a voice for student veterans at Houston Baptist University. Our goal is to create a culture of fun, and of service, for our fellow student veterans during their time in college. I am married to my very loving wife, Alejandra, who loves and supports me every single day. Please feel free to join us in serving those who served!
Secretary/IT Support: Eric Anderson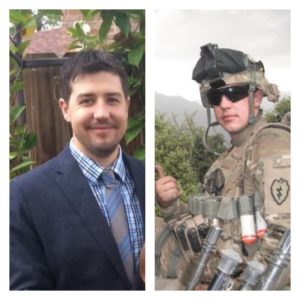 Being a native Texan, I always understood and appreciated the sacrifice of our military. After going to college and finishing a degree in Computer Networking Systems, I joined the workforce and soon realized that I had a greater responsibility to fulfill. My choice to serve in the United States Military came from a deep obligation I felt I had as a young man to do my part and serve. One of the most fascinating war documentaries I watched prior to basic training was Restrepo; little did I know, I would deploy to the exact same territory in Afghanistan. I Joined the Army in 2010 and had plans to pursue a full career in the military. I was an 11B, Infantry, grenadier and squad designated marksman. I had the pleasure of doing one tour in Afghanistan's Kunar Province around Korengal Valley during OEF 11-12. While in Afghanistan I was in the Battle of Gewi Ridge. I medically retired from service due, to combat injuries in February 2013. After working with the VA through my injuries, I noticed there was a real need for peer counseling for veterans. I began going to school to become a psychologist to work with veterans and help them with PTSD. I am committed to help improve the lives of our veterans and help with their recovery back into society. My hobbies include motorcycle riding and competitive shooting, I am ranked in USPSA Limited Pistol. I am married to my loving wife Robin and have one son, Dillan (5).
Sergeant At Arms: Jeremiah France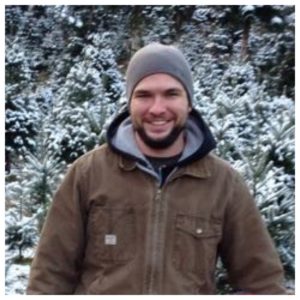 Grew up near Seattle, wanted to be an animator as a kid. I decided to join on 9/11, no matter how cliché it may be figuring the army would also give me money for college. Joined about 6 months later while completing my junior year of high school. Went to basic in Sept. '03. Spent a year in Ft. Huachuca for AIT, then stationed in Ft. Lewis standing up a new Stryker unit. Was an instructor pilot for my unit. Was stop lossed and went to Iraq as part of the surge from April '07 through June '08. Started work as an instructor at Ft Huachuca in Aug '08. First son was born April '10, and then Dec '10 moved to Salt Lake to be an instructor pilot of the test team for the manufacturer. Second son was born Oct '12 had some skull issue birth defects and had skull surgery in the beginning of Jan '13. Was asked to go to Afghanistan for 6 months to oversee a test that I had been on that was going overseas. Went to Afghanistan from Sept. '13 to Feb '14. Had a falling out with the company when they told me to stay another 12months, quit to go back to school full time to finish my Art degree. We moved to the Seattle area for a year and then to Houston to be closer to family, in Jul 15′. My family moved down here 8 years ago, and my mom had been fighting cancer for the last 6. Expect to graduate with a fine arts degree summer of '17 and will go immediately into graduate studies for a MFA starting Fall '17.