HVA Events
HVA Camo Toga Party For Cinco De Mayo
Huskies! Come join the Husky Veterans Association at the Husky Village Pool on May 5th, @6pm! We are hosting one last hoorah before the semester ends and we all head into finals week. So come release some stress, and relax in the pool/sun with food, drinks, games, and more!
Date: May 5, 2017
Time: 6PM
Place: Husky Village Pool
HBU Speed Reading & Memorization Workshops
Mr. Paul Nowak is offering a free workshop on speed-reading and memorization at HBU. This workshop will assist in helping read your textbooks more efficiently and skills to help retain the information you have read. The dates are Tuesday April 18th from 3-3:45 or Thursday April 27th from 3-3:45. There is no cost associated with this opportunity and I highly recommend you take advantage of such an amazing opportunity.
RSVP: https://attendee.gotowebinar.com/rt/2517313561147073795?source=HoustonBaptistU
HBU McNair Center for Entrepreneurism and Free Enterprise

Quarterly Speakers Symposium
"From Idea to Free-Market Opportunity: The True Path of Generosity"
The following Houston area McNair Centers for Entrepreneurism and Free Enterprise: HBU McNair Center, University of St. Thomas McNair Center & Rice McNair Center  invite all business professionals, entrepreneurial alumni, and students interested in free enterprise to our next Quarterly Speakers Symposium with Special Guest Emcee, Spencer Tillman (confirmed).
Guest speakers: Bob McNair (pending), Lou Hutchison (confirmed), Mike Kern (pending), Sam Susser (confirmed)
Special Guest Emcee: Spencer Tillman
Date: Wednesday, April 26, 2017
Time: 5:00 – 8:00 p.m. (Open Reception 5:00 – 6:00 in Green Room)
Location: Dunham Theater, Morris Cultural Arts Center @ Houston Baptist University
RSVP: hva@hbu.edu
2017 Veteran Recruiting Conference
Student Veterans of America has proudly partnered with The Value Of a Veteran for the 2017 Veteran Recruiting Conference, an educational conference for corporate and government talent acquisition professionals and veteran recruiting program managers. As part of the conference, one day has been set aside for employers and student veterans to network and discuss opportunities for careers, internships, externships and work study programs.
As a student veteran you will have the opportunity to network and interview with companies such as Amazon, Accenture, Comcast NBCU, General Dynamics, Vectren, Wells Fargo, Department of Agriculture, Rockwell Collins, Koch Industries and many more from ranging sectors. These companies want you!
Location: Renaissance Dallas Richardson Hotel
900 E. Lookout Drive
Richardson, TX 75082
Date: Fri, March 10, 2017
Time: 7:00 AM – 4:30 PM CST
Register: http://bit.ly/VetRec17SVA (Use Promo Code SVA to Attend for Free)
Discounted Rooms: Room Reservations
NOTE: The majority of registrations for this event have been set aside for student veterans under this registration link. You must register online by Thursday March 9th by 12 noon Central in order to participate. We are unable to handle walk-up registrations.
HVA Flag Football Tournament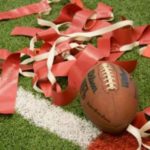 Come join the Husky Veterans in the Canteen Cup Flag Football tournament! April 7, 2017 from 6-10 pm in the Husky Stadium football field! Winning team receives a $100 Amazon gift card, and a bragging rights trophy! This is a great time to come out and enjoy the good weather while having fun. All Welcome!
Location: Husky Football Stadium
Date: April 7, 2017
Time: 6:00-10:00pm
Sign-up Link: http://www.imleagues.com/hbu (Select IMS Flag Football – Canteen Cup – HVA Flag Football)
Open Art Studio – December 3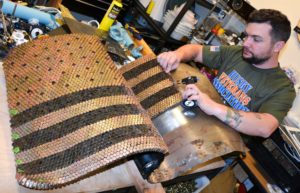 We are proud to showcase our own at the HBU Open Studio event. Jeremiah France is currently working on a commemorative piece. His flag project is about 60% complete. It will have 6,752 pieces of spent brass soldered together to make an American flag. That number is the total KIA for American military in Iraq and Afghanistan. It has a number of veteran and art organizations in Houston watching its progress as well as the Mayor of Houston and the Danish consulate. Any student at HBU with a studio will be there for people to come by and see what they are working on as well as they might/will have some competed items for sale for the holidays. Please come out and support our own!
Location: UAC(University Academic Center) building at HBU
Date: 12/03/2016 (Saturday)
Time: 12:00pm-5:00pm
Cost: Free
Phi Kappa Psi Veterans Day Fundraiser – November 11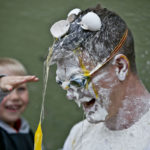 Would you like to participate in a super fun fundraiser involving Phi Kappa Psi? For today only, Phi Kappa Psi members are graciously volunteering  themselves in an epic egging event all to show their support on Veterans Day and giving all proceeds to the HVA. A donation of any amount can get you loads of fun and laughs and it all goes to a great cause!  Please come out and bring your best egg throwing arm and let us see your support.  We would like to thank the members of Phi Kappa Psi for their great dedication in helping the Husky Veterans Association reach our fund raising goals!
Location: Holcombe Mall
Date: 11/11/2016 (Friday)
Time: 11:00am-3:00pm
Coin Toss – November 12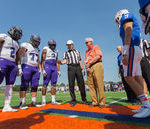 We are glad to announce that HBU Football has decided to honor all veterans that served on active duty during the November 12th home game vs. SFA. Coach Shealy has asked for veterans that served on active duty to be "Honorary Captains" for the SFA game. This means that those who reply will be given a Husky Veterans Association T-Shirt purchase by the football team and be asked to participate in the coin toss before the game. The NCAA limits the number of participants to meet at midfield but the "Honorary Captains" will walk out with the game captains and proceed all the way to the hash marks just shy of midfield. Following the coin toss the announcer will recognize the veterans on the field and all veterans in attendance of the game. These veterans will then be able to remain on the sideline for the entirety of the game, or take a seat in the stands if they so choose. Please RSVP @ hva@hbu.edu no later than Tuesday, November 8th, with your shirt size and any tickets for your guests should you have any. HBU football games are always free to veterans, just RSVP with an email of how many tickets you will need.
Date: 11/12/2016 (Saturday)
Time: 2:00pm CDT
Location: Husky Stadium
Registration:  hva@hbu.edu

Honor Walk – November 12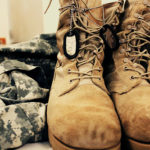 The Honor Walk is taking place the morning of November 12th leading up to the tailgate and football game. We are encouraging students, faculty, staff, and anyone else that wants to join us to walk a "mile" in our shoes. We are hoping to make this a 5K event where they get to experience a civilian version of a ruck march. We would appreciate if you would either join us or help promote the event. Please be sure to register if you intend on being part of this event. There is more information on the registration page. There will be groups for all ages and abilities.
Date: 11/12/2016 (Saturday)
Time: 7:30am – 10:00am CDT
Location: Houston Baptist University
Registration Page: Honor Walk Signup Page
Special Tailgate Honoring Veterans – November 12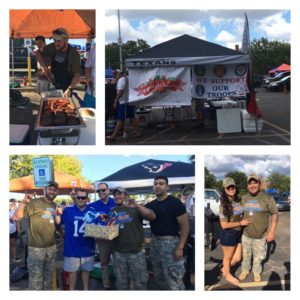 Please join us in honoring those who serve and have served. Our very own Husky Veterans Association will be hosting a special tent for this event. Kick off against Stephen F. Austin is set for 2:00pm. Veterans will receive free food! HVA Swag will be available for you to purchase at our tent if you would like to show your support. Donations will also be accepted.
COME SEE US!

Date: 11/12/2016 (Saturday)
Time: 11:00am-2:30pm CDT
Location: Houston Baptist University
Details: Parking is free and will be available in the visitor lots off of Fondren. Enter campus via entrance number 1 on Sharpview street and visitor parking will be on your right. The physical address is 7502 Fondren Road, Houston, TX 77074.

Veteran Resume Workshop – September 30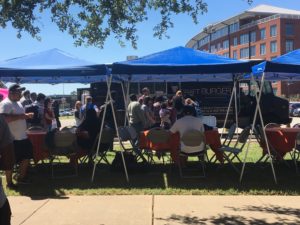 Happening Friday September 30th, Veteran Resume Bootcamp hosted by Accenture. Accenture is a veteran owned and operated company, they will be able to provide specialized resume help geared towards veterans needs. The event is scheduled from 9am-4pm, but this does not mean you will be there the entire day. Veterans are encouraged to stop by, receive the assistance and services provided and continue on with their day. They will provide free food by an award winning chef during this event. Accenture will be raffling off 4 TEXANS TICKETS with tailgate, and pre-game tunnel experience included. They will be providing one-on-one resume help plus one-on-one interviewing help. Hopefully we can get all HBU veterans to attend this awesome event. This event will take place in the Hilton building.
Date: 09/30/2016 (Friday)
Time: 9:00am-4:00pm CST
Location: Houston Baptist University Hinton Building (Room Number TBD)
Registration Page: Accenture Resume Bootcamp