Peggy Noonan
Columnist and Best-Selling Author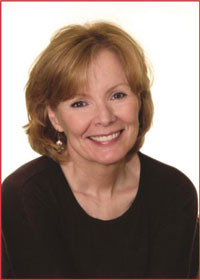 Peggy Noonan is a widely admired columnist for The Wall Street Journal and the best-selling author of eight books on American politics, history and culture. In 2008 the National Journal dubbed Noonan's political column indispensable to an understanding of the presidential year, and Forbes Magazine called her column "principled, perceptive, persuasive, and patriotic." Noonan's essays have appeared in TIME, Newsweek, The Washington Post and other publications, and she provides frequent political commentary on television.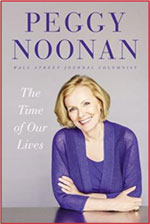 In her most recent release, The Time of Our Lives, Peggy chronicles her career in journalism, the Reagan White House, and the political arena. Released in November 2015, Peggy has placed all of her best work into one place and with her signature wit, takes a sharp look at the American life.
At the Podium
With experience from both the inside, as a member of the White House staff, and the outside, as an observer of politics, Noonan brings a unique and thoughtful analysis of our nation and its leaders to her speeches. Filled with humorous anecdotes and political insight, her speeches are as entertaining as they are thought-provoking. In a presentation described as "absolutely amazing" and "funny and self- deprecating and so smart," audiences will leave with a deeper, new, and more informed perspective on politics.
Biography Details
Peggy Noonan's book, Patriotic Grace, published by Collins in 2008, is written in the pamphleteering tradition of Tom Paine's Common Sense, and is a call for a more elevated national politics. John Paul the Great: Remembering a Spiritual Father, a look at the life of John Paul II, was published by Viking in 2005. Her collection of post-9/11 Wall Street Journal columns, A Heart, a Cross and a Flag, was published by Free Press in 2003. When Character Was King: A Story of Ronald Reagan, published by Viking in 2001, was a New York Times best-seller, as was The Case Against Hillary Clinton (HarperCollins, March, 2000). Her first book, What I Saw at the Revolution was called "A love letter to the American political process," by TIME Magazine. Her second book, Life, Liberty and the Pursuit of Happiness was called "the voice of our times" by USA Today. Noonan's third book, Simply Speaking, was published in paperback as On Speaking Well, in 1999; Forbes Magazine said of it, "Peggy Noonan packs a wallop of practical wisdom and insightful tips for rookie and veteran speechmakers alike…this wee volume, written by one of this century's premier presidential speechwriters, will guide you correctly."
Noonan was a special assistant to President Ronald Reagan from 1984 to 1986. In 1988 she was chief speechwriter for Vice President George H. W. Bush when he ran for the presidency. Before entering the Reagan White House, Noonan was a producer at CBS News in New York. In 1978 and 1979 she was an adjunct professor of journalism at New York University. She holds honorary doctorates from Miami University, St. John Fisher College, University of Portland, Adelphi University, St. Francis College, Ave Maria University, and her Alma Mater, Fairleigh Dickinson University.