Camp HBU
Monday, July 15 through Friday, July 19, 2019
Join us for worship, community service, games, classes and lots of HBU spirit!
Campers: Ages 10-15
Counselors In Training (CITs): Ages 16-18
Cost: $450 for campers and free for CITs
Campers: Ages 10-15
CITs: Ages 16-18
Saleim Kahleh '87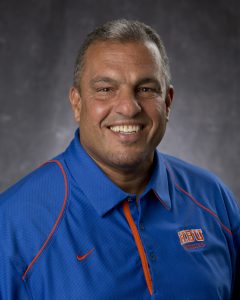 Saleim was raised as a Muslim in a loving Islamic home. After his first year of college, Saleim went on a quest to find the TRUTH about God and religion. The Lord Jesus revealed Himself to Saleim, and now he testifies around the world about "The Goodness of God". Saleim Kahleh graduated in 1984 from Houston Baptist University (HBU) with a Bachelor of Science in Christianity and Recreational Sports. Employed by HBU for over thirty years, he has served as the Director for Intramural Sports, Assistant Soccer Coach, Coordinator of Student Affairs, Director for the Men's Residence College, Coordinator for Prayer and Evangelism, Director of Campus Recreation, and Associate University Minister. He married Melanie Hancock in May of 1999 and they now have six beautiful children: Karah Grace, Saleim II, Simeon, Hannah Joy, Elianah Shalom, and Samuel Zachariah. Melanie Kahleh graduated from HBU in 1995 with a Bachelor of Arts Degree in Music and Christianity and taught Pre-K through 8th grade for three years. Perfectly matched in callings, Melanie also has a passionate desire for all people to know and experience the love and goodness of God. Saleim and Melanie are both actively involved in the ministries of Lakewood Church. They are former Directors of the Radical Singles and Koinonia, former teachers in the New Beginnings class and currently serve as prayer partners. In addition, they minister in several venues at Lakewood including missions training, compass classes and water baptism.