Greetings from the Guild President
2016-2018 Guild President Ruth Alford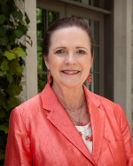 Many of our lives were changed recently as Hurricane Harvey hit Houston and the surrounding towns. The HBU campus, staff, students, faculty, friends and Guild members all sustained significant losses. During these moments of uncertainty, we looked to Almighty God to reevaluate life and its purpose. The Guild members prayed unceasingly for all victims. HBU organized a relief effort and sent out Husky teams to work in flooded homes. Many people were touched, and God was glorified.
I am so proud to be your Guild President for another year and to continue the traditions of serving, being joyful, patient, prayerful, sharing with those in need and always being hospitable.  These traditions of The Guild are evident in the many lives affected by The Guild's philanthropies – our Scholarship Program and The Guild Institute in Christian Family Studies.
Since 1995, The Guild has awarded numerous scholarships to students pursuing graduate degrees in the fields of education and theology, and can now boast of having 138 students who have completed their degrees through this program.  And since 2009, through The Guild Institute in Christian Family Studies, The Guild has welcomed a number of noteworthy Christian scholars and community leaders to the HBU campus for presentations supporting the Christian family.
All this is accomplished through the dedication, hard work and talent of our Guild members. Each of us has a talent that is God given, and we need to use this talent to the glory of our Father. There are so many ways to get involved with The Guild, and I hope you will not hesitate to jump right in and find your "niche." My scripture this year is Proverbs 3: 5-6, "Trust in the Lord with all your heart and lean not on your own understanding. In all your ways acknowledge him and he will make your paths straight." If we will just keep our eyes on Jesus and follow him closely, then we will be a reflection of Him … and others will see Him in our words, actions and lives. May God's blessing continue to be on HBU, Dr. & Mrs. Sloan and The Guild.
For His Glory,
Ruth Alford