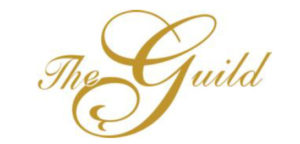 On October 5, 2017, the weather was perfect with sunshine and a touch of Houston fall in the air at the home of Laurie and Wade Phillips.  Guests were welcomed into their splendid home filled with collectable family treasures including football memorabilia from both Wade and his dad, Bum. A whimsical frog décor was noted throughout the home as well as in the beautifully landscaped yard.
The dining room table was filled with delicious tea sandwiches and many wonderful treats provided by the committee.   The meeting was presided over by The Guild President, Ruth Alford.  She thanked our gracious hostess, Laurie, for opening their lovely home, introduced our committee chairs,  Dana Grigsby and Cookie Peeler, and gave a preview of The Guild activities for the coming year.  Sixteen new and returning members were introduced and given a special welcome.  This year's scholarship recipient, Calvin Williams and his wife were introduced. Calvin thanked the Guild for making it possible for him to continue his education in theology.
Dr. Sloan gave an update on the University and upcoming events, then presented Laurie with a framed Bible page containing verses from 1st Corinthians 9 pertaining to athletes exercising self-control in order to receive an imperishable reward.
The coffee was attended by over 90 guests who had a fun time visiting with old friends and making new ones. It was enjoyed by all.
>
Click to View the Fall Coffee Slideshow