Message from the Executive Director

Fulfilling our Mission…Sharing our Joy…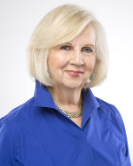 When I think of The Guild, I thank God for what you mean to HBU … and I think of the friendships we share.
Each year there is great enthusiasm as we plan a new calendar of events and opportunities. We know that there will be joyful times filled with laughter whenever Guild members come together.  And, we have the assurance of knowing that prayers are shared and hearts are one in times of need.
This year HBU proudly claimed their 20,000th graduate since the first commencement ceremony in 1967 some 50 years ago.  Since then, much has been accomplished by HBU and The Guild, which is celebrating 137 masters' graduates from our scholarship program since its creation in 1995. A degree from HBU acknowledges the dedication of our students to further their education at a Christian university … where a HIGHER Education makes a difference!
It is through the generosity of Guild members that we are able to change lives through our scholarship program.  By investing in others we are also able to change our own lives.  I am thankful for the gifts that each of you share with others, The Guild and HBU.  You unselfishly give your prayers, time, service, hospitality, and leadership.  And, you give financially to support our University and our students.  The joy we share is a celebration of all we give!
God tells us in his Word that life is meant to be enjoyed.  Every day is a new day in the most joyful way because of YOU!
Always and Forever.
Sharon Saunders