Message to the Guild from the President of HBU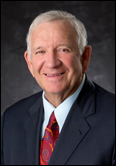 Dear Friends,
With yet another year behind us, Sue and I have much to be grateful for in our ten years at Houston Baptist University.  As always, The Guild continues to be such a wonderful support system of the University.  Because of your commitment to HBU's mission, we have been able to prepare students to serve the Lord in education and ministry in Houston and beyond.
This is a special year at HBU for many reasons.  This fall, we launched not only our first doctoral program, the EdD in Executive Educational Leadership, but also the Houston Theological Seminary.  Because of your faithful support, The Guild was able to create scholarships to support students in the EdD program, and we were able to award the first endowed scholarship this year.  With a strong beginning to the academic year, I know that we are also going to have an exciting end to the year.  In May, HBU will celebrate its 20,000th graduate as well as 50 years of graduates!  The Lord's blessings continue to shine.
As we embark on this exciting school year, Sue and I thank each of you for all that you do to support the mission and vision of the University.  We are extremely grateful for your Christian commitment and dedication to Christian higher education.
Blessings,
Dr. Robert B. Sloan, Jr.
President
Houston Baptist University