Message to the Guild from the President of HBU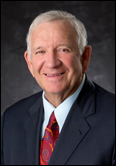 Dear Friends,
While the beginning of the fall semester was delayed due to the effects of Hurricane Harvey, our blessings continue even with the many challenges. HBU students, faculty, staff, alumni, and friends joined together to overcome the disruption and welcome another semester. HBU is blessed to rely on The Guild in times of joy as well as loss. We realize that all of you have been impacted by Harvey, in some way. And throughout the year please remember that you will remain in our prayers.
Sue and I are especially thankful for The Guild and the blessing The Guild's scholarship support is for students pursuing advanced degrees in education and theology. The Guild Scholarship Program contributes greatly to our students learning how to incorporate Christian values into their personal and professional lives, and we are excited to see it continue to impact their lives this year.
Eager to continue the success of the first year of the EdD in Executive Education and the Houston Theological Seminary, we are excited for another year to have the opportunity to spread the love of Christ through higher education. The Pinky Pampell Online Division is yet another way in which HBU is reaching more students this year. The expansion of our online course offerings now includes entire accredited degree programs online, allowing students to experience the highest caliber of Christian education from a distance! HBU is ready and poised for another wonderful year of positively impacting the lives of our students through learning.
Thank you for sharing your love and efforts with HBU through all circumstances. Sue and I greatly appreciate your service and dedication to the University and its mission. Because of each of you, Houston Baptist University continues to become a "city on a hill" for our community.
Blessings,
Dr. Robert B. Sloan, Jr.
President
Houston Baptist University