Criminal Justice
The Criminal Justice Program at HBU is designed to develop basic comprehension of crime, law enforcement, adjudication and corrections in our society. These skills are valuable in a variety of career fields that span the field of criminal justice, from police officers to judges, prosecutors to defense attorneys, probation and parole officers, investigators, and researchers in both the public and private sector.
The Criminal Justice major and minor at HBU fit neatly into an interdisciplinary undergraduate program devoted to preparing students for graduate studies, government, law school and unique and rewarding careers in private industry, federal and/or state government.  It's a great degree for students with interests in Legal Studies, Government, or Psychology.
Charles A. McClelland, Jr. is the police chief of the Houston Police Department (HPD). "I am very pleased to hear that HBU is starting a Criminal Justice Program that is based in ethics. Ethics in law enforcement is one of the necessary core values that are needed to build trust and confidence with the public. In order words, men and women in the Criminal Justice profession must always do the right thing.".
Allen Fletcher is the State Representative from Texas House District 130. Representative Fletcher serves as the Vice Chair of Homeland Security and Public Safety, the Chairman of the Law Enforcement Subcommittee, and is the only member of the 25 person Harris County delegation serving on the Transportation Committee. "A Criminal Justice minor is an excellent degree to prepare students for vocations in the criminal justice field (local, state and federal government, police, penal system, the court system, etc.). As the only retired peace officer in the Texas House of Representative and as a member of the Homeland Security and Public Safety committee – I have a unique understanding for upholding the rule of law and protecting the public. These are core responsibilities of any government representing a free society. The opportunity to attain a HBU degree in Criminal Justice is one that would be respected in the Criminal Justice community, and to have someone like Professor Ferrell to oversee the program is a bonus.".
Lee P. Brown had a long-time career in law enforcement, leading police departments in Atlanta, Houston and New York over the course of nearly four decades. During this time he helped to implement a number of techniques in community policing that appeared to result in substantial decreases in crime. In 1993 Brown moved to Washington, DC for a national appointment as the Director of the Office of National Drug Control Policy (or "Drug Czar") under President Bill Clinton. The Senate unanimously confirmed his appointment. Then in 1997 Brown was the first African American to be elected mayor of Houston, Texas. He was reelected twice to serve the maximum of three terms from 1998 to 2004. "Best wishes to you in your exciting assignment to establish a criminal justice program at HBU. I have had the opportunity to establish such programs at two universities. My experience showed me students will find the program to by both interesting and beneficial in their lives. Many students will appreciate the program because it will prepare them for rewarding careers in the criminal justice system. Others will take classes because the criminal justice system impacts all of us in one way or another. Learning about crime and society's response to crime will benefit all students as they enter into their chosen careers in the community.  I commend HBU for the decision to establish a criminal justice program and choosing you to develop it."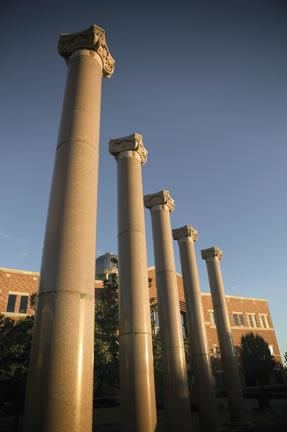 10 Granite Pillars Symbolize the Ten Commandments and are also Symbolic of Justice, Law and Order and came from Sixteen Columns which guarded the entrances to the Galveston County Court House erected in 1899 and behind which many, including W.C. Morris,  Found Refuge during the  Great Storm of 1900. Donated to the University by Joella and Stewart Morris, who said May Their Beauty, Magnitude, and Simplicity Remind Us of The Ageless Message of the Word of God, The Bible.