Houston Baptist University Welcomes
Inklings Scholar Andrew Lazo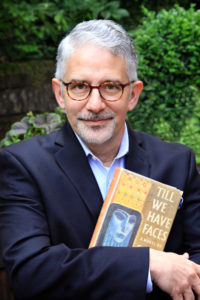 Andrew Lazo is an internationally recognized authority on the life and writings of C.S. Lewis and fellow Inklings. He was the Mythopoeic Society's 2016 Scholar Guest of Honor and a Plenary Speaker at the C.S. Lewis Foundation's 2017 Summer Institute in Oxford and Cambridge.
An expert on Till We Have Faces, the novel Lewis considered "far and away" his best, Lazo is delighted to partner with the School of Christian Thought at HBU and Houston Christian High School to present a 4-part lecture series on "C.S. Lewis & The Myth of Love: (Un)Veiling the Mysteries of Till We Have Faces." Register Now to enjoy Lazo's passion, humor, and insight into C.S. Lewis' artful wisdom on the life of faith.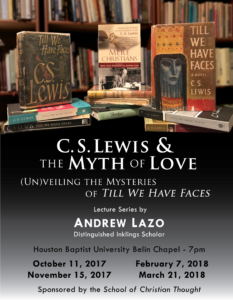 Lectures:
Wednesday, October 11, 2017 – 7:00 P.M. Belin Chapel
Wednesday, November 15, 2017 – 7:00 P.M. Belin Chapel
Wednesday, February 7, 2018 – 7:00 P.M. Belin Chapel
Wednesday, March 21, 2018 – 7:00 P.M. Belin Chapel
Registration Info:
Discounted advance registration for each evening is limited to the first 200 attendees and is expected to fill quickly. Sign up now to reserve your place!
Cost: $7 / lecture with advanced registration ($10 at the door*)
Bundle & Save: Register for all 4 lectures now for $20 ($25 at the door* on October 11)
Group Pricing: Bring your friends & save when you reserve at least 3 seats in advance ($5 per person per lecture)
*Please note: tickets sold at the door will be purchasable using cash only!