BBA: Management
HBU Online Learning Program
Study Management – Gain a Competitive Edge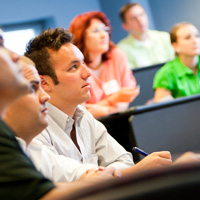 In today's increasingly competitive business environment, employers need creative and skilled employees that show leadership abilities and global vision. The management major at HBU provides students with an outstanding educational experience aimed at developing broad skills as well as technical competence to gain a competitive edge. Our management program produces graduates who have leadership ability, critical thinking skills, team-building knowledge, and an ethical decision-making value system.
The Management Program emphasizes practice as well as theory. Our full-time faculty have extensive academic qualifications, as well as practical business experience. They are accessible to our students and advise them throughout the student's academic career.
View the Degree Completion Plan.
HBU offers students a higher education through its online Undergraduate and Graduate programs. By combining faith, reason, and liberal arts into one core curriculum, we've created an education that goes further than most.
An education that's based not only on technical training, but the teachings of Christ, reason, and the past successes and failures of humanity. An education that puts our students on the fast track to being leaders, both in their careers and in their communities. HBU strives to send its students out into the world with a better understanding of how to live a fulfilling, accomplished, and righteous life.
Accreditation
Houston Baptist University is accredited by the Southern Association of Colleges and Schools Commission on Colleges to award the associate, baccalaureate, and graduate degrees.