Church & Faith-Based Career Fair
March 8 @ 8:00 am

-

5:00 pm
Church & Faith-Based Career FairThursday March 8, 2017 , 1:00pm-4:00pm
The Church & Faith-Based Career Fair is a new recruiting option at Houston Baptist University! All faith-based organizations including Churches of all denominations, camps, mission-oriented organizations are invited! Non-Profit organizations interested in recruiting blessed and highly favored candidates are also encouraged to attend! Our students have diverse interests including working in a church, becoming a camp leader during the summer, going on mission trips, and much more! Regardless of your recruiting needs, all majors are invited to the Church & Faith-Based Career Fair!
Campus Guide
Houston Baptist University
7502 Fondren Rd, Houston, TX 77074
Morris Cultural Arts Center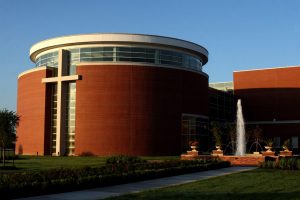 The Morris Cultural Arts Center houses the Dunham Theater, Belin Chapel, Dunham Bible Museum, Museum of Architecture and Decorative Arts, and the Museum of Southern History.