Houston Baptist University Founding Father Stewart Morris was honored during his 98th birthday celebration on Wednesday, Oct. 25. He spoke to students during campus convocation, then was honored with a campus naming dedication.
The HBU President's House will now officially be known as "Morris House," and a statue of Stewart Morris will grace the campus. Dr. Robert B. Sloan, HBU president, presented birthday gifts to Mr. Morris during a luncheon and thanked him for the generous gift from the Joella and Stewart Morris Foundation toward the upkeep of the house. "Your life is an inspiration and we're grateful for you," Sloan said. "You've meant so much to the students, faculty and staff of this University."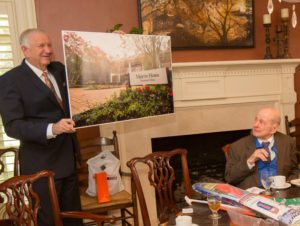 Mr. Morris and his late wife, Joella, were instrumental in the creation and success of HBU. They are also the namesakes of the stately Joella and Stewart Morris Cultural Arts Center on campus. Stewart Morris served in the US Navy and graduated from college in 1943 before overseeing the growth and expansion of Stewart Information Services Corporation (SISCO), and its subsidiary companies known as Stewart Title. Stewart and Joella helped establish in 1960 what was then Houston Baptist College. They each served in numerous leadership and volunteer capacities for HBU; their contributions throughout more than 50 years are truly immeasurable. Learn more about their legacy at HBU.edu/JoellaandStewartMorris.