Houston Baptist University President Dr. Robert B. Sloan spoke to the approximately 7,000 attendees of the American Association of Christian Counselors World Conference, held at the Opryland Hotel in Nashville, Tennessee in September. He shared the Ten Pillars vision of HBU, and spoke about the opportunities available via HBU Online.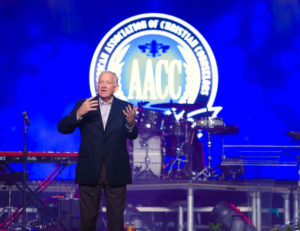 HBU partnered in the event; HBU Associate Professor of Early Christianity and Founder of Christian Thinkers Society Dr. Jeremiah J. Johnston served as a keynote speaker.
As a national, comprehensive university, Houston Baptist University offers excellent programs across the arts and sciences. Both the undergraduate and graduate programs have grown in recent years, and the launch of the Pinky Pampell Online Division is enabling students from around the world to enroll.