The Spirit of HBU Dinner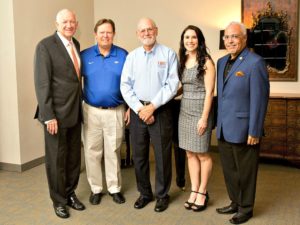 Saturday, October 7, 2017 at 4:00 p.m. hosted in the Morris Cultural Arts Center – McNair Hall
On Saturday, October 7, the HBU Alumni Association will host the annual Spirit of HBU Awards Dinner honoring alumni for their achievements and contributions to HBU. Additionally,  alumni, faculty, and staff will be inducted into HBU's Walk of Honor. 
2017 Spirit of HBU Press Release
The dinner is an opportunity to honor the Alumni Award recipients: Distinguished, Meritorious Service, Hallmark and Emma Key Faithful Servant Awards.  HBU Athletics will be inducting individuals into the HBU Athletic Hall of Honor whose participation and contributions enriched and strengthened the university athletic program.
In addition to the Alumni Awards, the President's Award, Opal Goolsby Outstanding Teacher Award, and the Mayfield Outstanding Staff Award recipients are inducted into the HBU Alumni Association Walk of Honor, located in the Bettis Quadrangle of the Brown Administrative Complex.
The University and the HBU Alumni Association look forward to the opportunity to honor and congratulate their alumni and friends on their hard work and lasting impact on the community. 
Distinguished Alumnus Award
The Honorable Joe Zimmerman, MBA '89
Mr. Zimmerman is the mayor of Sugar Land, a respected engineer and a frequent campus special guest.
Meritorious Service Alumnus Award
Debra Perich, '99
Ms. Perich served HBU as Guild President from 2012 to 2014, has chaired the Silver Tea Fundraiser for several years and continues to provide significant leadership to the Guild.
Hallmark Award
Coach Theresa Fuqua
During her 10-year tenure as the head track and field and cross country coach of HBU, Ms. Fuqua has built a successful program and started the BacktheTrack campaign.
Emma Key Faithful Servant Award
Julie Nguyen
Ms. Nguyen is an HBU senior and a mathematics major. As a resident assistant, she has been a faithful campus servant and a friend to many.