Grad Fest  | Cap & Gown Pick Up 
Tuesday, August 7
3:00pm – 5:00pm
Hinton House
While your collegiate chapter is ending, you are only just beginning a lifelong relationship with Houston Baptist University. The HBU Alumni Association is excited to host Grad Fest to welcome new graduates into the HBU Alumni Association.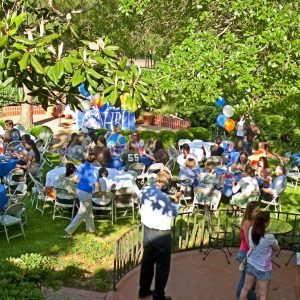 Grad Fest for 2018 will be
 3:00pm – 5:00pm 
on
Tuesday, August 7.
Bring your HBU ID Card with you to check in to the event. 
Share on social media using the hashtag 
#HBUGradFest
! 
Aside from picking up your cap & gown,  there will be opportunities to get free HBU swag from the Alumni Association, pick up graduation tickets, and enjoy some sweet treats, because you deserve to be celebrated! Each graduate's cap & gown pick up will involve a special welcome gift from the HBU Alumni Association. 
For additional questions, please feel free to contact the Office of Alumni Relations at 281.649.3413.