Alumni Press Releases
HBU Announces 2016 Alumni Award Recipients
Houston Baptist University has announced the recipients of the Alumni Association's 2016 annual alumni awards: the Distinguished Alumnus Award, Meritorious Service Alumnus Award, Hallmark Award, and the Emma Key Faithful Servant Award. The award recipients will be honored at the 2016 Spirit of HBU Awards Dinner on Saturday, September 24, 2016.
Distinguished Alumnus Award
Benny Agosto Jr.
The Distinguished Alumnus Award honors alumni who have made distinctive contributions in their profession. This year's recipient is Benny Agosto '86, who is a partner in the highly acclaimed and respected law firm of Abraham, Watkins, Nichols, Sorrels, & Agosto. Benny is also the proud founder of The Mexican American Bar Association Foundation. Additionally, Benny is the co-founder of the Hispanic National Bar Association's Legal Education Fund, which provides scholarships for young Hispanic law students in the Houston area. Benny lives his life by always challenging himself to keep learning, to love and support his wonderful family, and to make every attempt to better his community. He truly exemplifies the many characteristics that HBU holds close. As a former HBU soccer player and coach, Benny has shown continued commitment to supporting the soccer program. The HBU Alumni Board of Directors recognizes that Benny has maintained a lasting bond with HBU faculty and makes every effort to show his love, respect, and appreciation for his family, community, and his alma mater.
Meritorious Service Alumnus Award
Mark Ammerman
The Meritorious Service Alumnus Award honors alumni who have made significant, sustained contributions of time, energy, and creativity toward the advancement of the University. This year's recipient is Mark Ammerman '82, who has faithfully supported HBU and the Alumni Association since he graduated. Mark previously served on the Dean's Development Council for the Archie W. Dunham College of Business, the Center for Christianity in Business Advisory Board, and is a current member on Houston Baptist University's Board of Trustees. From his wise counsel on multiple projects to creating a scholarship in the school of Christianity, Mark is dedicated to helping grow and strengthen HBU. Mark recently retired as the Managing Director and Industry Head of Energy at Scotiabank Global Banking, and he never hesitates to come back to his alma mater to offer his expertise and advice as HBU continues to grow and expand to be a world-class university. His constant commitment to the growth of the University and the success of the Alumni Association make him a deserving recipient of this award.
Hallmark Award
Dr. Rusty Brooks
The Hallmark Award is conferred upon an HBU faculty or staff member who has been particularly supportive of the Alumni Association and the mission of HBU. Along with being honored with this award, each recipient of the Hallmark Award is designated as an "Honorary Alumnus." This year's recipient is Dr. Rusty Brooks. While serving as a faculty member and interim dean at HBU, Dr. Brooks has had the opportunity to instruct and impact many students and alumni. Dr. Brooks's teaching focus is on achieving "real-life" experiences and challenges in the classroom, and he is known for spending hours outside of the classroom counseling and mentoring students and alumni in their career paths. While at HBU, Dr. Brooks has served as the chair of the Athletic Affairs Committee, is the immediate past-president of the Society for Marketing Advances, and currently holds the Prince-Chavanne Professorship in Christian Business Ethics. He is also a two-time recipient of the Robert Griswold Outstanding Teaching Award in the School of Business. While at HBU, Dr. Brooks has been an incredible resource to students and alumni alike. "He always had his door open for students and was never shy about sharing his wisdom," says alumna Susy Perez '16. "During classes, he took it outside of the classroom by providing real world problems and solutions… He's the best professor I had at HBU by far." You can often find Dr. Brooks at an alumni tailgate or supporting his students at their athletic events. Dr. Brooks currently serves as the associate dean of undergraduate programs in the Archie W. Dunham College of Business as well as the program coordinator for marketing. Dr. Brooks' relentless dedication and support to his current and former students is what helps make him a deserving recipient for the Hallmark Award.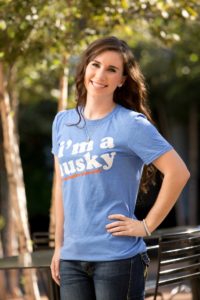 Emma Key Faithful Servant Award
Victoria Simms
The Emma Key Faithful Servant Award honors a student who exemplifies the selfless, Christ-like character of the late Emma Key, daughter of HBU Alumni Steven '96 and Sherry '95 Key. This year's recipient is Victoria Simms. Victoria is a bold Christian and loves sharing her faith with others. In addition to serving as the chaplain on HBU's dance team and participating in many other HBU organizations, she also serves the Houston community by volunteering with organizations such as The Source for Women. Victoria's servant's heart is also demonstrated by her mission work in Texas and beyond. Her goal is to use her HBU nursing degree to start a Mobilized Medial Missions team and lead volunteer teams all over the world, where they will provide holistic care to vulnerable population of orphans and introduce them to the Gospel. Victoria emanates a willing lifestyle that combines faith-filled good works with the effortless ability to share her testimony with everyone. She is indeed a deserving recipient of the Emma Key Faithful Servant Award.