REC Team
What is REC Team?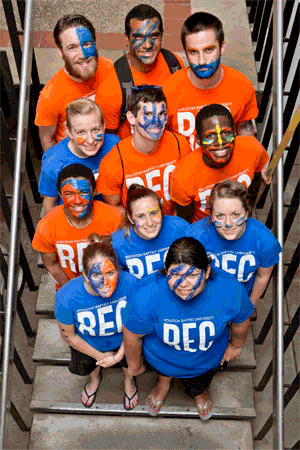 HBU REC team is 8 trained and talented HBU students that travel across Texas to lead recreational activities at High School Summer Camps. The REC Team members spend up to 10 weeks in summer camps across the state for youth grades 7-12.  Not only does our REC Team lead recreation but they also participate in skits, share testimonies and lead Bible studies.
Why should your camp pick HBU's REC Team?
HBU's REC Team loves Jesus and truly want to inspire high school students. Known for their crazy games, fun personalities, and wild skits; the REC Team uses all of those gifts to bring enthusiasm for the gospel of Jesus Christ!
How do I get in contact with REC Team?
Please contact the REC Team coordinator, Ashley Kiker, at akiker@hbu.edu or 281-649-3761 with the following information:
Church/Camp name
Group information (including a contact person)
Requested dates
Requested activities
How much does REC Team cost?
We require each church/camp to sign a contract, provide housing for REC Team during the duration of camp, and a monetary fee that will be determined by the REC Team coordinator based on camp duration and number of students served. You can find a sample contract here.
What will REC Team provide our students?
REC Team will provide any materials they need to perform recreational activities. If you require additional games, the materials will need to be provided. They will transport themselves to the camp site. REC Team will only participate in activities designated by the signed contract.
What is Wild-N- Crazy?
Wild-N-Crazy is one of the most popular games that the REC Team has.  This game is the biggest, messiest, wildest food fight x 10, relay that you will ever see.  There are 10 stations of craziness: chocolate commando, watermelon core, baby food chug, human hot dog, pie face, bobbing for pickles, antiquing, hair gel unicorn, Mentos fountain and dizzy lizzy/slip-n-slide at the end!  Don't be afraid to get a little Wild-N-Crazy!
Is it really all about Jesus?
The REC Team also does everything for the glory of the Lord.  Each member views REC Team as a mission trip as well as an exciting experience.
"Not to us, O Lord, not to us but to your name be the glory, because of your love and faithfulness." 
// Psalm 115:1