Institute of Christianity and Scholarship
Welcome to the webpage of the Institute of Christianity and Scholarship. The mission of the Institute is to assist faculty, staff, students and other members of Houston Baptist University practice scholarship in light of the truth of Christianity and HBU's Baptist heritage. On the left you will find links to a variety of material including upcoming conferences, grant opportunities and organizations dedicated to advancing Christian scholarship. Feel free to contact the Institute of Christianity and Scholarship.
Pinson Lecture Series
Join us on November 10th at 7pm in Belin Chapel for the Pinson Lecture Series featuring the President of Trinity International University, Dr. David S. Dockery.   The lecture is titled "Baptist Approaches to Higher Education."  The Pinson Lecture Series is generously sponsored by the Baptist General Convention of Texas.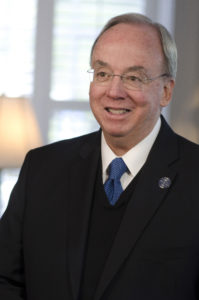 Dr. Dockery is recognized as a leader in Christian higher education across the country, having spoken at more than fifty colleges, universities, and seminaries, as well as providing numerous institutional consultations.  He served on the Board of Directors for the Council for Christian Colleges and Universities, serving as Board Chair in 2005 and 2006.  Dockery also served as Chair for the Consortium for Global Education in 2007, while also serving on the Board of the International Association of Baptist Colleges and Universities.
1 CLW credit is available for students who attend.